Colored contact lenses offer you the perfect means to change your eye color. With colored contact lenses, you can achieve any look you desire, from a subtle to bold one. They are a perfect accessory for you to improve your everyday look or take up an amazingly chic look for special occasions such as office meetings or some casual party like Halloween.
First of all, colored contact lenses are available in both Plano as well in prescription forms:
Plano Coloured Contacts:

These colored contact lenses have no lens power, so they are not used for vision correction. They are used only to change your eye color and are purely worn for cosmetic purposes.

Prescription Coloured Contacts:

These colored contact lenses come with correction power to correct hyperopia (farsightedness), myopia (nearsightedness), or astigmatism. Toric lenses are used for astigmatism. They correct your vision while enhancing the colour of your eyes.
The cost of colored contact lenses might be more than the normal contacts. However, the amazing look it offers is certainly worth it.
Various Types of Coloured Contacts
Most of the shades of colored contact lenses are designed to imitate the natural color of the iris. As the iris has colorful lines and patterns, colored contacts have radially arranged colored lines and patterns and a series of colored dots, making the lenses appear more natural on the eyes.
The central part of the lens which comes over the pupil is clear, allowing you to have a clearer vision.
The colored contacts are available in three different kinds of tints:
Visibility Tint
This is usually a green or blue tint added to contacts so that the lens is more visible during removal and insertion or if you drop it.
Enhancement Tint
It is a solid but transparent tint. Enhancement tint, as the name suggests, improves the natural colour of your eyes. This tint is slightly darker than the visibility tint.
Colored contact lenses with this type of tint are for those who want to make their light-colored eyes more vibrant.
Opaque Tint
It is a non-translucent tint that completely changes the natural colour of your eyes. These contact lenses are perfect options for people with darker-colored eyes to enjoy a different color.
Colored contact lenses having opaque tints come in various shades like amethyst, blue, brown, hazel green, violet, and gray.
Theatrical or costume contact lenses fall into this category. They have been used in the movies and with Halloween costumes for a long time. You can get these special-effect contacts for novelty use.
How to Choose the Best Coloured Contact Lenses
Finding the shade that will suit you best with your style and personality can be a daunting task. Which color will suit you best depends on multiple factors such as your skin tone and hair color. Also, it depends on the kind of look you are aiming at; whether you want a natural-looking and subtle or daring and dramatic look.
Coloured Contact Lenses for Dark Eyes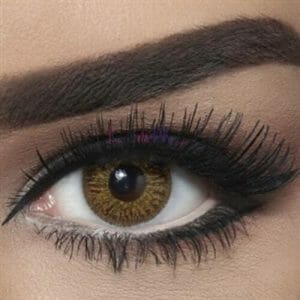 Contact lenses with opaque tints are the best bet for people with dark eyes. You can try hazel or lighter honey brown for a natural-looking transformation.
Contact lenses with vibrant colors like green, blue, or violet can do a great job to have you stand out of the crowd. For people with darker skin, bright-colored lenses will give you a breathtaking new look.
Colored Contact Lenses for Light Eyes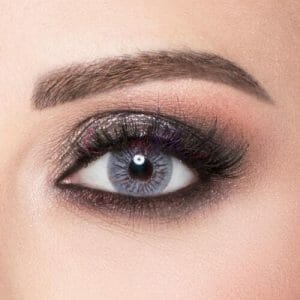 If you desire to get a more subtle appearance, you might want to choose contact lenses with an enhancement tint that improves and deepens the natural color of the eye and defines the iris's edges.   
Choose contact lenses in green and gray if you want to experiment with different eye colors while still retaining a natural look. These colors will give you a particularly good effect if the natural color of your eye is blue.
Contact lenses with a warm tone like light brown will be a perfect option for you, especially if you have light-colored eyes and a soft skin tone with blue-red undertones naturally, to achieve a dramatic look that will surely attract the attention of everyone.
Custom-Tinted Contact Lenses
Some contact lens brands can make custom-colored tints with or without prescription. These contact lenses are perfect for a truly individualized look.
Custom-made shades are made from the blend of a variety of colors in different densities. Usually, the colors are semi-translucent so that you get a natural look. These contacts can even cover an eye injury or a congenital eye defect and your eye an appearance of a healthy pupil.
Custom-tinted contact lenses are not only for cosmetic use; they are also used by professional athletes to improve their visual performance.
Some of the benefits of "sport tint" contact lenses are; enhanced contrast sensitivity, reduced glare, and heightened depth perception. For example, a green tint contact lens makes the ball more visible on a tennis player.
Contact lenses are also available in a photochromic tint that automatically adjusts to different intensities of light. These lenses are designed to lessen the brightness of sunlight coming into your eyes. They are not made for any cosmetic reasons.