Low vision is a kind of visual impairment that cannot be corrected by any medication, standard eyeglasses, contact lenses, or surgery. Low vision interferes with a person's ability to perform everyday work.
Warning Signs of Low Vision
Following are some of the warning signs of low vision:
Trouble in cooking, reading, or sewing.

Trouble seeing as lights may not seem as bright as usual.

Trouble recognizing the faces of relatives and friends.

Trouble reading signs or crossing the street.
If a person starts having troubles like these, he/she should make an appointment with an eye care practitioner immediately. He/she should ask for information on vision rehabilitation if the vision cannot be treated by common methods like glasses, medication, surgery, or contact lenses. Vision rehabilitation may include services like vision evaluation, support groups, training about using visual and adaptive devices, and how to perform everyday activities with impaired vision.
Cause of Low Vision
A variety of disorders, diseases, and injuries can affect the eyes in a way that results in low vision. Many of the people who have low vision have a cataract, glaucoma, age-related macular degeneration, or diabetic retinopathy. About 45% of the people with age-related macular degeneration have low vision.
People above 65 years of age are at high risk of getting low vision. Also, African Americans and Hispanics above age 45 are at higher risk for low vision because they are at higher risk for developing diabetes and, in turn, diabetic retinopathy. Moreover, African Americans are at a higher risk of developing glaucoma. 
The number of cases of low vision is likely to increase as the mortality rates drop. The cost of low vision includes treatment, loss of personal income, education, and associated costs. 
Low Vision and Affect on People
People who have low vision experience economic, physical, and psychological changes that decrease the quality of life. Low vision affects daily activities (like walking, cooking, driving), leisure activities (like reading, sports, sewing), and the ability to perform functions that can result in loss of the job. This inability to perform normal tasks often makes people confused, fearful, grief-stricken, depressed, and anxious. Moreover, people who lose their depth perception can injure themselves by falling.
People with Low Vision Face Problems at Work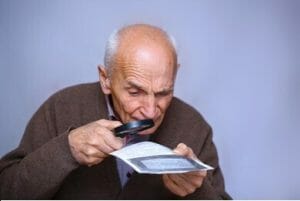 More than half of the people with visual impairment who took part in a survey conducted by The Lighthouse, a social and vision advocacy service organization, claimed that their inability to see clearly creates difficulty in performing their jobs. They said that the loss of income because of low vision was a serious or very serious problem.
People with Low Vision are Prone to Injury and Accident
Studies have proven that the loss of depth perception and stereoscopic vision increases the risk of falling, tripping, or running into objects, for example, an open cabinet door.
Activities and Strategies that can Help People Perform Daily Tasks
Resources and strategies devised by people with low vision depend on the severity of the vision problem. There are some devices that can help people read, write, and perform daily tasks. These adaptive strategies include:
Adjustable lighting, large-print publications, prescription reading glasses, magnifying devices, cassette recordings, closed-circuit televisions, computers with speech output systems and large prints, electronic reading machines.

Simple strategies like writing on tablets with bold lines or with big, bold black felt tip markers on papers to make it easier to write in a straight line.

Using contrasting colors can help as well. They can place colored tapes on the edges of the steps to distinguish the steps, which will reduce the risk of falling. Dark-colored electrical outlets and light switches can provide contrast on light-colored walls.

Clocks, telephones, and watches with large numbers can help people use them more easily. Also, large-print labels placed on the microwave oven and stove can help as well.
The visual devices that help people with low vision are reading glasses and reading prisms to perform tasks that require vision at near, middle, and far distances and for visual field defects. These devices must be used under the guidelines and training of eye care professionals.